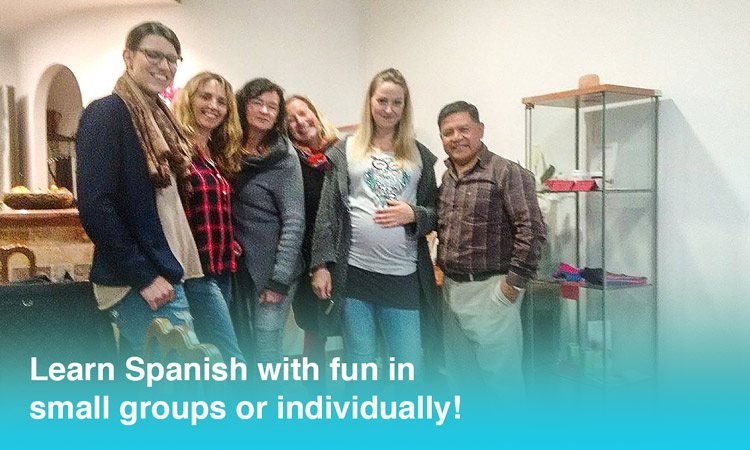 Lesley Green
Dear Angel
I thank you for your patience in the last few months in the teaching of Español.I have learnt so much from you and you have made it so interesting.I found the way you taught Español easy to follow, you were always explaining things in such a way that I could follow through and even master the verbs and adjectives. I have a way to go yet to become proficient in the language but you have given me a good foundation and I will always remember you.
Yours sincerely
Lesley Green
Douglas Cardow
Dear Angel,
When I decided to move to Mallorca, to start a new Business, I made up my mind to learn the language of the country. I bought two sets of CDs that were supposed to make learning Spanish easy. However, I found that it was very difficult to understand the basic teaching, and it was also very boring .
I started my lessons with you doing eight hours over three days each week, and I was worried that it would be too much to take-in. In the event, I found that the time passed very quickly, and your method of teaching kept my interest throughout each session.
It´s hard to believe that just five weeks ago, I did not know any Spanish at all, and now I can understand around eighty-per-cent of most conversations. I particularly like the fact that you teach the proper pronunciation, and that you insist on continual practise of the verbal conjugations. This makes it possible to understand more easily when I get it wrong.
I have found the whole experience very enjoyable and I look forward to starting another series of more advanced lessons, at the end of the year. I would recommend your courses to anyone who wants to learn real Spanish. The kind that allows you to converse with the local people in terms that they can understand.
Yours sincerely,
Douglas Cardow
Peter Pratt
Dear Ángel, I have taken Spanish lessons with you now for 3 months. I would like to thank you for your professional and enjoyable teaching. Due to your classes I am now to converse in good Spanish for a beginner and your method of teaching was very easy to understand. I am coming back to Mallorca, and I will certainly take more lessons with you. Thank you very much, and good luck. All the best Peter Pratt.
Peter Richardson
Dear Angel,
Well, we have completed our course and now have to follow your instructions – practica, practica, practica!!!
We would both like to thank you, not only for teaching us the important aspects of the Spanish language, but also the way in which you made each class interesting, so we felt encouraged and wanted to learn more.
We particularly liked the way each lesson was constructed, with plenty of conversation using, as you liked to tell us, correct Spanish. This helped to build our confidence, and combined well with the necessary learning of vocabulary, verbs and conjugation.
We will certainly recommend you to anyone who may want to learn Spanish, either a basic course, or a refresher to bring out the words sleeping in their heads!!
We will keep in touch to let you know our progress.
Regards,
Carole and Peter Richardson
Taz
"We feel very lucky that Angel was recommended to us. We had been struggling along on another course and although we desperately wanted to learn Spanish, those classes like the worst parts of being back at school. We took a chance at changing schools and it has worked out so well for us.
The best thing about Ángel is his energy. He clearly loves teaching and because he is so enthusiastic he really keeps you going.  We are always amazed at how patient he is, he will keep explaining until we fully understand.  He really encourages us to ask questions which means every class is really tailored to suit us. I'm sure we learn 3 times faster than we did previously and we really look forward to the classes.  There's always something to laugh at and that really helps to keep focused over a 2 hour class.  It is a pleasure when we can recommend him to others."
Taz, Gay. Darling
Nadia Hamed
I want to thank you for helping me overcome hurdles with the Spanish language, you truly are a superb teacher. Living on and off the Balearics for 5 years, I attempted what feels like the majority of quick fix Spanish tutorials, books, online classes.. yet I still struggled with fluency, confidence and understanding. Within a month (more or less 15 hours) of tutorial with you, I am able to speak & understand the majority of conversational Spanish, and express myself with greater confidence. Your encouragement and enthusiasm has turned what was previously a chore into a fun and enjoyable journey, I look forward to learning more.. Thank you !
Nadia Hamed